PPC Management Service for Kolkata Companies
Consumers in Kolkata have started using internet; the net savvy generation of shoppers is here. Hence, this is the right time for Kolkata companies to invest in online advertisement.
Pay Per Click (PPC) ads are very powerful component of online advertisement. We, at TechShu, have a team of PPC experts headed by Google Qualified Professional. We offer some exclusive PPC packages for Kolkata companies. You can check our PPC section to understand how it works. We are also developing an extensive PPC guide to help people learn more about PPC.

TechShu Among Top 3 Bing Certified Companies & Only Indian Company In The World

Right Time for Kolkata Companies to Start Investing in PPC
Kolkata companies are investing heavily on outdoor (hoarding), print ads and television commercials. Even national brands that are operating in Kolkata, West Bengal, are doing offline advertisement.
What about internet? Kolkata has a good number of internet users. People are not only using internet for information, they are shopping online as well. Here are some examples; here is a screenshot taken from Google's Keyword Analysis Tool – it shows how many people are searching Kolkata related terms every month.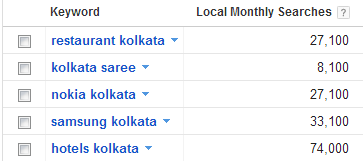 Contact us to know how many people are searching for terms related to Your Business in Kolkata.
Therefore, if you are not targeting your customers online, perhaps, you are losing big!
Our Offer for Kolkata Companies that want to try PPC
Our PPC service aims at 2 major facts
Reduce cost
Increase sales
Also, to help Kolkata companies understand the power of Online Paid Ads, we offer an exclusive Free AdWords Management Service – this is only for Kolkata based companies. In this program, you need to pay the media budget, which is directly paid to Google. That's it – we do not charge any service fee. This is a one-time program. Contact us to know more about it.
A Million+ Rupees Experience with Google AdWords – we have run campaigns worth a million plus with Google